Flowers and trees in and around Modi'in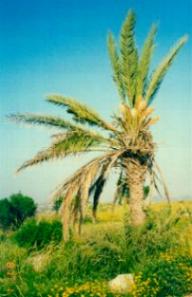 Date Palm in Modi'in
The typical landscape of the Modi'in area is a Mediterranean collage of rocky hillsides, forests and fields. Cypresses, pines, almond, fig, carob and olive trees are common in this area, as well as Sabra cactuses and date palms. One of my favourite times of year is late January/February, around Tu B'Shvat, the Jewish new year for trees, when the almond trees start to bloom, the first trees to blossom as spring approaches, dotting the hillsides all over the region with soft pink and white blossoms.
Mid-winter and spring are probably the most beautiful times of the year. Colourful wildflowers begin to bloom after the first of the heavy winter rains, reaching a peak in the spring, towards the end of the rainy season in March/April. When the rains come early the first pink crocuses may appear as early as the first week or so in November, but when the rains are late the first winter flowers may only appear in late December. Typical winter flowers include cyclamen which emerge from under rocks and on stony hillsides in the middle of winter after heavy rain, along with asphodels and narcissi.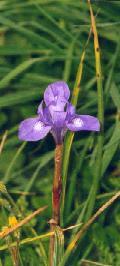 Iris
In March and April red crown anemones bloom all over this area, though one of the most impressive displays is on the Tetora hill, a nature reserve and archaeologial site on the edge of Modi'in, where the anemones create bright seas of red, especially on the southern and eastern slopes. They are joined by small purple irises, various flowers from the pea family, giant fennel and the ubiquitious yellow Jerusalem spurge which carpets hillsides throughout the region this time of year.
By April the red anemones are starting to wilt and are replaced by the similar-looking red corn poppy, as well as white Dominica sage, red adonis, red buttercups, yellow and pink wild mustard and pink hollyhock. Common wild grasses include wild oat, quaking grass and wild barley which transform large areas of uncultivated land and urban patches of wasteland in luxurious green meadows.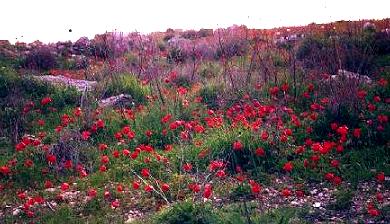 Crown anemones on the Tetora hill
By May the landscape is starting to brown, most obviously where there are large areas of wild grasses, such as the meadows of wild barley on the Tetora. Many bright flowers still liven up the landscape though, yellow umbrels of wild dill, white/pale pink field bindweed, blue/purple nepeta,deep pink Jerusalem sage and china blue dwarf chicory. Though many thistles are not yet in bloom, their tall evil looking stalks (some over 2 metres high) start to dominate in many open areas, harbingers of summer.
| | |
| --- | --- |
| Sabra cactus in bloom | Corn Poppies |
One of my favourite blooms this time of year is the yellow Sabra (prickly pear) flower which starts to appear this time of year in this area, though I noticed that further south in the Negev the Sabras were already in full bloom by early May. I enjoy seeing these prickly plants covered in yellow flowers, especially where they grow in large clumps so that from a distance you see the hillsides dotted with bright patches of yellow.

Red Everlasting
One of the distinctive flowers for this season is red everlasting, known in Hebrew as dam hamakabim - blood of the Maccabees. I've noticed large clumps especially on the southern slopes of the Tetora and along Nahal Anaba. Just as in Britain the red poppy came to symbolise the blood of the fallen on Flanders field in World War I, and so became the flower worn on Rembrance Sunday, in Israel Red Everlasting has the same symbolism and is the emblem of Israel's Memorial Day which falls in late April or May
Almond trees start to bear fruit around this time of the year as well. These young soft green almonds are edible, though not nearly as tasty as the ripe nuts will be in a few months time. However there are special local recipes for this time of year which make use of green almonds.
In late May and June the yellow common mullein is in bloom in open areas throughout the region. This many branched, tall plant resembles the Menora, the 7 branched candelabra which stood in the ancient Jewish Temple in Jerusalem, and which is one of the Jewish people's most ancient national symbols. Some scholars say that the branched shape of the Mullein was a model for the menora.
| | |
| --- | --- |
| | |
| Almond tree with green almonds | Wild Carrots on the Tetora in May |
Despite the impending dry summer, spring has a last fling with colours this

time of year with the the blossoming of the pomegranate trees, which are covered with large, bright red bell shaped flowers and the first tiny green unripe pomegranates which will only ripen by late summer. This is possibly the origin of the ornamentation of the hem of the High Priest's robe in the time of the Temple which the bible describes as being decorated with 'a bell and a pomegranate, a bell and a pomegranate, around the hem of the robe...' (Exodus 39:26)

In the parched, rainless summer various yellow and purple thistles and the last white umbrellas of wild carrot brighten the rapidly browning landscape, which by late August looks faded and barren.



---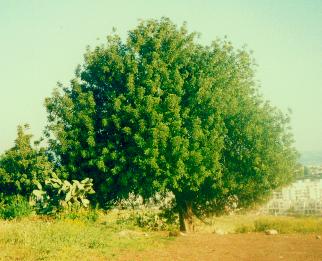 Carob tree on the Tetora
Below is a list of some of the flowers I've seen in the Modi'in area, mostly on and around the Tetora hill, the Nahal Anaba nature area on the edge of town or on patches of wasteland around town. We've seen many more, I just haven't always been able to identify them. Those listed below I've identified to the best of my knowledge.
Afternoon Iris (winter/spring)
Ainsworthia (spring)
Behen Centaury (winter/spring)
Bishop's Weed (spring)
Bristly Hollyhock (spring/summer)
Common Mullein (spring/summer/autumn)
Common Scabious (spring)
Corn Poppy (spring)
Crown Anemone (winter/spring)
Desert Spike (spring)
Dominica Sage (spring)
Dwarf Chicory (spring/summer)
Dwarf Centaury
Field Bindweed (spring/summer)
Field Chrysanthemum Crown Daisy (spring)
Field Mustard (winter/spring)
Field Sword-Lily (late winter/spring)
Friar's Cowl (winter/spring)
Giant Fennel (spring)
Globe Thistle (summer)
Hairy Flax (spring)
Hawksbeard (winter/spring)
Henbit (winter/spring)
Holy Milk-Thistle (spring)

Jerusalem Spurge (winter/spring)
Jerusalem Sage (spring)
Judean Bugloss (winter/spring)
Love-in-a-mist (spring)
Lupin (late winter/spring)
Nepeta (spring)
Palestine Iris (winter)
Persian Cyclamen (winter/spring)
Pink mustard (winter/spring)
Prickly bugloss (spring)
Purple Clover (spring)
Red Everlasting (spring)
Scarlet Pimpernel (winter/spring)
Southern Daisy (winter)
Spring groundsel (winter/spring)
Squirting cucumber (summer)
Summer Adonis (spring)
Syrian Thistle (spring)
Tall Asphodel (winter/spring)
Tumble Thistle (spring/summer)
Venus' Comb (spring)
Violet Horned Poppy (spring)
Wild Artichoke (spring/summer)
Wild Carrot (spring/summer)
Winged Pea (winter/spring)
---
Introduction to Israeli Flora | Plants of the Bible | More Plants of the Bible and Talmud | Introduced species | Trees and Flowers in the Modi'in area | Israeli botanical and nature links

---
Copyright 2002 by Leiah Elbaum. Text and illustrations on this page are by Leiah Elbaum. Last updated 1 October 2002.