Israeli Landscapes
Israel's huge variety of landscapes belies its compact size. It's possible from north to south in less than a day and to drive from west to east in under 2 hours, and yet despite many years of exploring this fascinating country I find there are still so many undsiscovered corners I have yet to visit.
Many people imagine that this part of the world is simply one big desert full of sand, but even if Israel only had deserts its landscape would still be varied, with the mountainous red, black and brown rock formations around Eilat, the flat yellow sandy areas in parts of the Negev, the canyons and gulleys of the Judean desert ranging from bright yellow to to orange to dull beige and the salt formations near the Dead Sea.
Israel is blessed with many non-desert landscapes, from the coastal cliffs and grottoes of Rosh Hanikra to the Mediterranean pine forests and scrub of the central regions to the semi-tropical lush green of the Ein Gedi oasis to the snow capped peaks of Mt Hermon.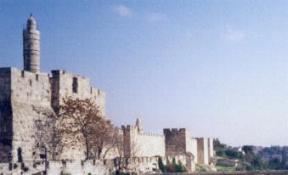 Jerusalem - Old City ramparts

The short drive from the west coast to the eastern border with the Kingdom of Jordan goes through a varied selection of topography and climate zones. For example, you might begin amidst the office buildings of greater Tel Aviv on the flat, humid coastal plain and make your way east through the humid Shfela lowland with it's orange groves, farms and small towns. The road would

gradually start to climb into the Judean foothills around the Modi'in area, passing through red roofed villages, fields and forested or stone covered hillsides. Eventually you would come to the mountains around Jerusalem, some barren and rocky, others covered in forests of pines, carobs and cypresses, with small towns and villages nestled amongst them. Driving through Jerusalem you'd come to the desert road leading down to the Dead Sea, the lowest place on earth. The rocky desert scenery on either side of the road is broken by the occasional Bedouin encampment, agricultural villages and huge signs marking your descent from the mountains of Jerusalem to 300m below sea level.

Below is a sample of the views you might see on a journey from north to south, starting in the fertile northern mountains, through the Judean Desert, Jerusalem, the Negev and Arava deserts and ending up at the Red Sea resort of Eilat.The photos have been taken over a period of several years during different seasons. Jerusalem only gets snow every few years, not every winter and the snow photos were taken just after a big snowstorm in January 2000.
Northern Views
| | | |
| --- | --- | --- |
| Prehistoric dolmen at Gamla | Ancient synagogue at Baram | Hula Valley, Mt Hermon in the distance |
| Artists' Quarter in Safed | Mt Hermon ski lift | Neve Ativ, on the lower slopes of Mt Hermon |
| Nahal Taninim | B'hai shrine, Haifa | Nahal Meshoshim |
Central Israel
| | | |
| --- | --- | --- |
| Jerusalem forest and suburbs in snow | Jerusalem - View of Ben Hinom Valley towards Abu Tor | Tel Aviv viewed from Jaffa |
| Nahal Mikhmas, Judean Desert | Sunset, Nitzanim beach | Tel Aviv beach, view toward Jaffa |
| Railroad crossing near Beit Hilkiah | Date palms by the Dead Sea | Dead Sea salt formations |
Down South
| | | |
| --- | --- | --- |
| Acacia trees in the Arava | Rock formations in the Timna national park | The Red Sea off Eilat |
| Nahal Bsor, north-west Negev | Nahal Zin | Ein Avdat canyon floor |
| Nahal Shchoret, the Black Canyon | Ein Avdat canyon | Tomb of Ben Gurion, Israel's first prime minister, near Sde Boker |
Israeli Landscape links
Below are some other Israeli landscape sites which might be of interest:
---
Copyright 2011 by Leiah Elbaum. Text and photographs on this page are by Leiah Elbaum. Last updated 8 January 2011.