Modi'in and the surrounding area

Makkabim (left) and Modi'in (right) and Jason
Modi'in's neighbours
Modi'in's immediate neighbours, Re'ut and Makkabim are much more suburban and rural in character than Modi'in, consisting mostly of single family red-roofed stucco houses with lots of nice gardens. As Modi'in continues to grow I imagine that Re'ut and other small towns and villages will become garden suburbs of the city of Modi'in. Currently Re'ut and its more rural neighbour, Makkabim regularly come in the top 5 in the annual Israeli standard of living survey.
Most of the other communities in the area such as Lapid, Kfar Rut and Shilat are quite rural, though most are gradually taking on a more suburban character, with people attracted to living in single family homes set amongst the hills and fields, but commuting to the major cities for work.


View from the Tetora Hill of Kfar Rut and Lapid
Shilat and Kfar Rut for example are better known in the area for the shops in their industrial zones than for their agriculture. These industrial zones are particularly busy at the weekend when shoppers crowd the household goods stores, plant nurseries, furniture shops and restaurants.
That said there is still a lot of farmland in the area, just down the road from Modi'in is Kibbutz Sha'alavim, a religious communal village which still has a substantial agricultural sector, including cattle and chickens.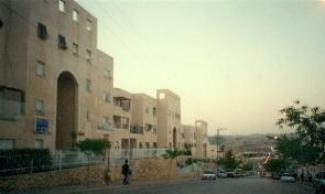 Kiryat Sefer
The only main urban centre in this area other than Modi'in is Kiryat Sefer (also known as Modi'in Illit) which is a religious town whose population is entirely Haredi (Jews who maintain a very traditional religious lifestyle). Kiryat Sefer has a selection of services catering to the religious community. The building style there tends to be denser than in Modi'in, with the emphasis on providing affordable housing for young families who find themselves priced out of the market in the large cities. Kiryat Sefer also offers families more space, play areas and fresh air than Haredi neighbourhoods provide in cities such as Bnei Brak. Kiryat Sefer is slightly higher than Modi'in, and so is colder in winter and more pleasant in summer.

Park in Matityahu

Kiryat Sefer overshadows the nearby religious moshav (communal village) of Matityahu which has gone from being a village to being a suburb of a fast growing town. While this has spoilt the rural idyll for Matityahu residents, it has meant that they now have better access to public transport and services.

Hashmonaim, a religious community down the road from Kiryat Sefer is home to several religious schools whose good reputation draw students from all the surrounding towns and villages.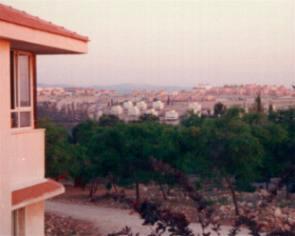 Lapid viewed from Matityahu
---
Introduction | Location | Historical sites in the Modi'in region| Modern Modi'in
Population and Employment | Services and Amenities | Modi'in's Neighbours | Recreation Areas
Eating Out | Modiin area birds
---
Links to my Modi'in nature pages
---
Copyright 2002 by Leiah Elbaum. Text and photographs on this page are by Leiah Elbaum. Last updated 15 November 2002.