Modern Modi'in
Modern Modi'in is a new, planned, semi-suburban town. In harmony with local topography most of the main streets in Modi'in are in the valleys with residential areas along the hillsides.
Like many Israeli apartments in the hilly and mountainous parts of the country, many Modi'in apartment buildings are 'graduated' or 'terraced' along the hillsides, for example our flat is half a storey above the ground in the front and a full story above the ground at the back.
This idea of building in harmony with the local topography also includes an emphasis on rounded shapes at junctions to flow with the contours of the hills. This works better in some places than others. Many of the streets are pretty steep and there are a fair number of almost blind turns. Driving in some neighbourhoods can take some getting used to.
While rounded corner buildings and in some areas sloping tiled roofs do soften the harsh lines of modern Israeli architecture in some parts of town, in most neighbourhoods the dominant style is some variant of the plain, angular architecture typical of most urban areas in Israel. Some of the newer neighbourhoods have a cosier feel with single family homes, arches and softer lines.
As a "veteran" resident of this city, I love the feeling of space in Modi'in, the parks, luxurious long lawns running down the centre of the major boulevards, the many small neighbourhood parks and above all the surrounding countryside and nature reserves.
Many residents have created delightful gardens and balconies with lovely flower arrangements or huge brightly coloured, delicious smelling vines tumbling over the fence, such as jasmine, passionfruit, honey suckle or morning glory. When we first arrived in town it had something of the feeling of a science fiction set - all futuristic angles and white stone or concrete. Over the years these colourful gardens have made the town feel lived in and real, prettier too.
Modi'in does have it's 'charming' areas too. There are some neighbourhoods with semi-pedestrianised brick paved streets (rehovot hollandiim - Dutch streets in Hebrew), for example the area with streets named after verses from Solomon's 'Song of Songs' near the Modi'in Centre shopping centre. This neighbourhood has large houses on narrow brick lanes leading off from a main park and parking area. The overall impression of this area is that the architect was trying to create a modern version of the traditional style old neighbourhoods in cities such as Jerusalem and Jaffa. I'm not sure how practical the layout is, but it is certainly prettier and and more private than many of the more modern looking neighbourhoods.
One of the nice features in many areas of Modi'in is the use of Jerusalem style stone facing on buildings. I believe that this is required by municipal regulations on all main roads, but it's a feature in other areas too. Unfortunately in many side streets the more usual painted concrete is common, and while for now this looks fresh, it generally doesn't age as well as stone facing, as a casual look at most typical Israeli cities proves. Concrete facing tends to age by crumbling and turning brown, while the buildings of Jerusalem just gain character as their rough stones age and show signs of weathering and urban grime. On a practical level the pale pink or yellow of stone buildings produces less glare in the bright summer sun than whitewashed concrete, and so is easier on the eye.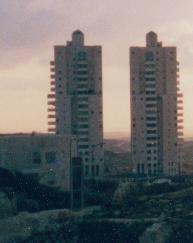 While most of Modi'in consists of low to medium rise buildings, we do have exceptions, a few high rise apartment buildings, the most prominent of which are Luki Towers (yes, I have spelled that correctly, named after the Luki building company which built them). The towers are probably Modi'in's main landmark, other than the hilltop watertower, and continue to be the subject of strong feelings in the town. Many people consider them to be an eyesore, spoiling the more human scale of the rest of Modi'in, though most neighbourhoods just have one or two, and some have none.
The naming of streets is a difficult matter...
Most main streets have been named after major Israeli valleys, e.g Ayalon Valley Street, Hula Valley Street, Dotan Valley Street etc. This is especially confusing as Modi'in is located close to the real Ayalon Valley.
Each neighbourhood has its own themed streets: trees, flowers, Solomon's Song of Songs, the Twelve Tribes of Israel and the prophets. While officially most neighbourhoods have names related to (well, mostly) these street names many are also known by the name of the developer or architect responsible, Buchman, Kaiser, Country, Malibu etc. Confusing, I know.
In keeping with the topographic theme many residential streets in many older Modi'in neighbourhoods have been named after Israeli streams and rivers, the idea being that all the streams on the hillsides 'flow' into the valleys. The result is very confusing with several neighbourhoods in which just about every street is named after a 'Nahal' (Hebrew for stream). Even though we now have street signs, there are a lot of visitors to Modi'in who get very lost in a sea of streams, and not realising that almost every street in this part of town is named 'Nahal something' end up cruising around a neighbourhood checking each Nahal for the right one. Rumour has it that some poor souls have spent days looking for the right 'nahal'...
---
Introduction | Location | Historical sites in the Modi'in region| Modern Modi'in
Population and Employment | Services and Amenities | Modi'in's Neighbours | Recreation Areas
Eating Out | Modiin area birds
---
Links to my Modi'in nature pages
---
Copyright 2002 by Leiah Elbaum. Text and photographs on this page are by Leiah Elbaum. Last updated 15 November 2002.