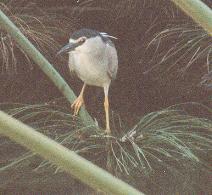 Night heron
Birding along the Mediterranean Coast
Israel's Mediterranean coast offers an interesting selection of birds. Even though much of the coastal plain is densely populated there is still plenty of undeveloped coastline, as well as agricultural areas and fish farms, creating a popular attraction for many birds.
North of the greater Tel Aviv region, on the way to Haifa, there are a variety of coastal nature reserves and national parks which are home to many water birds.
Ma'agan Mikhael and Carmel coasts in particular are known for attracting a variety of birdlife among the fish ponds and dune wetland areas. A day at the Ma'agan Mikhael fishponds and and the adjacent Nahal Taninim streamside nature reserve offers an interesting mix of birds and watery habitats. Species include: , Armenian gulls, little and great white egrets, night, grey, purple and Squacco herons, spoonbills, glossy ibis, white stork, water rails, avocets, white pelicans, kingfishers, black winged stilts, black kite, snipe, dunlins, redshank, greenshank and other sandpipers as well as assorted ducks and plovers.
The fish ponds attract huge numbers of gulls milling around the complex, as well as a variety of waders, big and small. The dense undergrowth and reeds along the Nahal Taninim stream are home to a selection of waterside warblers, such as Cetti's and reed warbler, and other songbirds. Keep an eye out for mongoose too.
You might also want to take a look at the fishponds at neighbouring Ma'ayan Tzvi.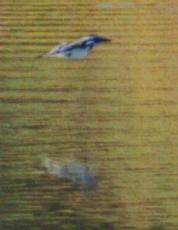 Lesser pied kingfisher
Nahal Alexander, kibbutz Sdot Yam's beach, the remnants of the Hadera marshes north of Netanya, and Nahal Poleg south of Netanya are other potential birdwatching sites which are an easy day trip north of Tel Aviv.
While not actually on the coast, the nearby mountain top town of Zikhron Ya'akov makes a nice base for birding in the area. The grounds of the Ganei Carmel hotel, with great views over the coast and lowland fishponds, are a pleasant place to look for songbirds and raptors soaring over the valley and woods below. Look out for assorted finches, bulbul, sunbirds, black redstart, Syrian woodpecker, serins and buzzard. You'd need a tip top telescope to make out anything in the fishponds or fields though as they are quite far away.
The Rothchild Gardens on the edge of town are worth investigating. Imagine the neat grounds of an English stately home with a Mediterranean flavour. On a recent visit, while walking through the scent garden I met an English speaking gardner, originally from South Africa. He said that he sometimes take visiting birders around the gardens, though he himself is not a birder. He also told me that the Rothchild Gardens in conjunction with the Carmel Hai-Bar nature reserve are working on a project to restore Griffon Vultures to the area.
About an hour's drive south of Tel Aviv, between the cities of Ashdod and Ashkelon is Park Nitzanim, a dune nature reserve, beach and camp site. A smallish reed-surrounded lake in the nature reserve is a lovely spot for birdwatching, with blue throats, reed warblers, clamorous reed warblers, Cetti's warblers, all three species of kingfisher found in Israel and the odd bittern or little bittern. I love watching the antics of the lesser pied kingfishers darting and diving over the water, resembling giant black and white butterflies. On every visit I seen a purple heron skulking in the same far corner of the lake, or perched high on a branch above the water.
As with many of the above birdwatching sites, Nitzanim is a beautiful place to visit in its own right, If your spouse or travel companion is not into birding, they can still enjoy the dune landscape and beach, which is especially well known for its beautiful sunsets. It's lovely to relax on the beach late in the afternoon, watching a little egret or heron perched on a rock fishing in a little tidal pool as the sun goes down into the sea.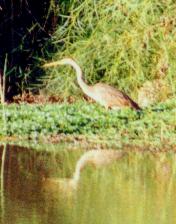 Purple heron
The nearby city of Ashkelon, home to a fast developing resort and marina, is a rewarding base for birding in the area. The marina itself is home to many birds, as are the cliffs beyond the hotel strip. Winter birds include Spanish sparrows, blue rock thrushes, black redstarts, cormorants and black headed gulls.
Even Tel Aviv, Israel's major conurbation, the Yarkon River park provides refuge for many birds, including spur winged plovers, little and great white egrets and glossy ibis and assorted herons. The Jaffa coast and old port is good for a selection of gulls and other sea birds, especially in stormy winter weather.
---
Birding intro | Biblical birds | Birdwatching links
Golan and Galilee | Dead Sea and Ein Gedi | Eilat and Negev
Jerusalem area | Mediterranean coast | Modiin area
---
Copyright 2004 by Leiah Elbaum. Text and illustrations on this page are by Leiah Elbaum. Last updated 17 August 2004.
Return to home