Birdwatching Locations in Southern Israel
Beersheba and environs
The Beer Sheba area is a good birding base, with a variety of locations, including the forests north of the city, in the Lehavim area, the Sde Boker field school just south of the city, and the Zin wilderness.
The Ein Avdat canyon, south of Beer Sheba and Sde Boker, is a beautiful area for seeing a mixture of desert and waterside birds. The canyon is part of the Zin wilderness which stretches from the Dead Sea area southwards. The area around Ein Avdat is bleak desert but the Avdat spring keeps the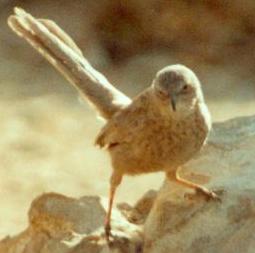 Arabian Babbler

canyon floor lush and wet year round, providing the foliage that attracts many common oasis birds such as blackstarts, Arabian babblers, scrub warblers, great grey shrikes, desert larks, trumpeter finches, and many others as well as some waterfowl (there is something very surreal about seeing moorhen in the desert!). Sand partridges and chukars are common, and friends have seen many sandgrouse there, though we have yet to have the honour, probably because we've never managed to visit early enough in the morning.

The steep cliffs above the canyon are a home to yet more birds such as wallcreepers, pale crag martins, bee-eaters, ravens, buzzards and Egyptian vultures. Griffon vultures which can be seen regularly soaring above the canyon or perched in clusters on a cliff. It is also a good site for Bonelli's eagle. Spring migrations can through many other species into the mix.

The fields and sewage ponds around Beersheba are also rich in birdlife. Species found in the area include houbara bustard, cream-coloured courser, sand partridge and various types of sandgrouse. The fields around Beersheba, indeed the northern and north-western Negev region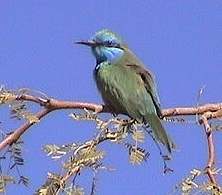 Little Green Bee-Eater at Yotvata

in general are also good places for raptor spotting, with many species both resident and wintering in the area. Even a simple drive in the area, for example from Beersheba to Lehavim or Kiryat Gat can yield an interesting variety of sightings. I have seen many, many birds, especially raptors, along this road, but most of the time there was nowhere convenient to stop the car and investigate and positively identify most of them... Someone with more raptor expertise would have a field day in this area.

South-west of Beersheba, the Nizzana area, near the Egyptian border, is also worth investigating. This area is also a good place for overwintering and migrating raptors, as well as for many of the species mentioned above. Personally, I haven't had much luck here, neither has another friend, but luckier folks have seen houbara and other bustards, all manner of sandgrouse and more. I guess you win some, you lose some.
Mitzpe Ramon and the Negev Highlands
Continuing south from Beersheba it's worth stopping off at Mitzpe Ramon, a little town perched on a cliff above the huge Ramon Crater, one of Israel's most impressive geological wonders. The woods, parks, gardens and cliffs around town attract many birds. There are a couple of pleasant hotels and a youth hostel in town if you want to use Mitzpe Ramon as a convenient stop on the way to or from Eilat. There is also a useful visitor information centre at the edge of town.
To get a feel for the place and the local birds take a walk along the clifftop promenade which includes several spectacular overlooks of the crater and cliffs, also passing gardens and small parks.Desert larks and white crowned wheatears are commonly scene perching on the railing at the edge of the promenade. Keep an eye out for pallid swifts and pale crag martins. Other species you might see on this walk include mourning wheatear, hooded wheatear, scrub warbler, blue rock thrush, rock thrush, Syrian serin, Spanish sparrow, bulbul, little owl, sunbird, blackstart, collared flycatcher, spotted flycatcher and brown necked raven.
While Chukars are common in many parts of Israel, they are often especially numerous around the outskirts of Mitzpe Ramon, I've often seen dozens of them in the rocky wasteland and scree slopes around the camel shaped observation platform at the end of the promenade.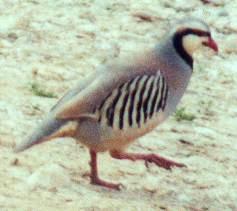 Chukar partridge
The crater cliffs are home to many raptors and the scenic overlooks provide good views. Possible species include: Griffon vultures, golden eagle, long legged buzzard, lanner, barbary falcon and Egyptian vulture.
The crater is an unihabited nature reserve, packed with a wealth of interesting geological features and several springs and oases. These are excellent places for viewing the diverse local wildlife, especially early in the morning or towards dusk. Amongst the other typical desert birds, look out for sandgrouse near the springs. If you enjoy mammal watching, look out for onager (a donkey like wild horse), desert gazelle, nubian ibex, foxes, assorted desert rodents, wolf and hyena.
There is a lovely scenic drive north of Mitzpe Ramon along route 171, which takes you through the Negev Highland national park to the Egyptian border. This is a good area for sandgrouse, sand partridge and desert courser. I had my first and to date only sightings of crowned sandgrouse by chance from the car while driving along this route. Look out also for short toed-lark which I've seen several times here.
The area is especially impressive in spring, after the winter rains have created meadows of wildflowers and wild grains in the middle of the desert, attracting songbirds on migration.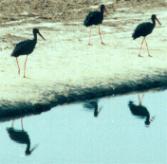 Black storks
Eilat and environs
At Israel's southern tip is the Red Sea resort of Eilat, perhaps the best known place for birdwatching in Israel. Ideally situated on the only land bridge between Africa and Asia, Eilat is a major rest stop for birds migrating between Africa and Eurasia, as it is the first substantial oasis after crossing the Sinai Desert.

In the town itself the north beach, close to the Jordanian border, offers a great selection, both of seabirds and migrants. A nearby drainage channel east of the lagoon is also promising, particularly where it spills into the sea. Species include reef and mangrove herons, brown booby, greater sand plover, plus assorted gulls such as white-eyed, great black headed, lesser black-backed and black-headed gulls.

A birdwatching park lies just north of the town itself, close to the Jordanian border. To get there, turn east at the Eilot Junction north of town and follow the signs for the tree planting centre. The park includes both salty and freshwater ponds and various types of vegetation, along with a ringing station which is open to visitors during the early morning and late afternoon or evening, depending on the time of year. The sanctuary has some pleasant trails and hides, especially good for scanning the pools.

Sometimes there are visiting research students working there too and they may be handling some very impressive birds.

A huge variety of species pass through Eilat during the autumn and spring migrations and you will see many different birds depending on when you visit. Typical birds include spur winged and little ringed plovers, black winged stilts, squacco, grey and purple herons, black storks, flamingo, as well as little green bee-eaters, honey buzzards and lots of barn swallows.

The Arava desert north of Eilat also offers particularly good birding sites including Kibbutz Lotan which has its own birdwatching centre and guest house. Many birders say that Lotan has surpassed Eilat as a birder's paradise, and recommend using the kibbutz as a base rather than Eilat.

The grounds around the kibbutz Yotvata rest stop/cafeteria are also worth checking out. Stop for lunch, fill up your car and have a wander around the acacias, date palms and desert scrub. I find that this is spot has been especially good for little green bee-eater, I see at least one every time I visit, but if you have the time to explore, you may discover many more interesting finds.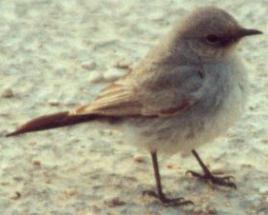 Blackstart
Other areas of interest around Eilat include beautiful national parks such as the Timna national park, the Red Canyon, and roadside lookout points in the Eilat mountains north of town. In general areas around springs or with groves of acacia or other trees are naturally likely to be good birding spots in these desert regions.
Even if you don't have time to dedicate to birding, the odds are that on any drive or hike in the Arava and Eilat areas you'll see some interesting birds. Common species in the area include white-crowned black wheatears, Tristram's grackles, desert larks and assorted species of buzzard, raven and bee-eater.
Hai-Bar Conservation Centre
If you really want to see big birds visit the Hai-Bar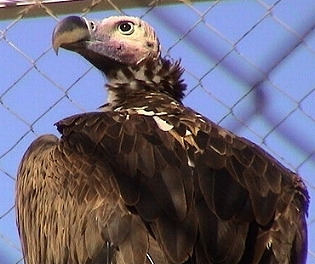 Lappet faced vulture at the Hai-Bar Nature Reserve

conservation centre just south of kibbutz Yotvata and several kilometres north of Eilat. The reserve offers a mixture of desert birds, including many raptors. A wander around the acacia trees and scrub near the visitor's centre and mammal collection will often yield a nice selection of local birds, and if you're lucky a few surprises. Typical are Arabian babblers, little green bee-eaters and blackstarts.

There is a small collection of captive native animals too, some of which, such as the most impressive lappet faced vulture , are part of an Israeli breeding programme to reintroduce locally extinct or endangered birds and mammals back into the wild. Other native birds in the captive collection include two griffon vultures, two Egyptian vultures and eagle owls, all of which still be found in the wild in Israel, even easily in certaom locations, but nevertheless, quite awesome to have the chance to meet face to face.

One can tour the reserve with a ranger/guide, who can provide commentary on the birds in the area, as well as the many other desert animals on the reserve.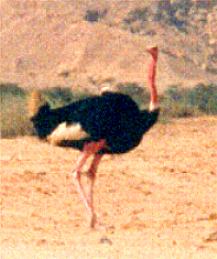 Ostrich at the Hai-Bar Nature Reserve
The stars at the reserve though are the ostriches. I first spotted some from the highway when driving past the Hai-Bar, but it's well worth getting a closer look and visiting the reserve itself.
Until less than 100 years ago these birds were native to Israel's southern desert regions though the local sub-species has disappeared throughout the entire region. Several decades ago the Hai-Bar conservation project brought over Ethiopian ostriches, the closest relatives of the now extinct local sub-species and these ostriches have bred successfully on the reserve and there are plans to reintroduce them into the wild, starting with the Halutza dunes in the north-west Negev, east of Gaza. The birds thrive amidst the dunes and the Halutza area is currently home to many large commercial ostritch ranches.
---
Birding intro | Biblical birds | Birdwatching links
Golan and Galilee | Dead Sea and Ein Gedi | Eilat and Negev
Jerusalem area | Mediterranean coast | Modiin area
Griffon vulture
---
Copyright 2004 by Leiah Elbaum. Text and illustrations on this page are by Leiah Elbaum. Last updated 20 December 2004.
Return to home