Birdwatching Locations at Ein Gedi and the Dead Sea
Continuing further south one reaches the Dead Sea, a large saline lake nestled in the lowest place on earth, and the surrounding Judean Desert. The crags, lush oases and special vegetation of the Judean Desert are fascinating areas to explore and are home to birds such as fan-tailed ravens, brown necked ravens, Dead Sea sparrows, Arabian babblers, blackstarts, pale crag martins, sand partridges, trumpeter finches, desert larks, scrub warblers and mourning and white crowned black wheatears, many of which are also found further south in the Negev and Arava areas. If you're very lucky you might catch a glimpse of the uncommon sooty falcon or barbary falcon.
One of the most typical birds of the region is Tristram's grackle, a starling which can be seen throughout the Dead Sea area, whizzing past in a flash of scarlet and black or perched in trees and rocks. If you're walking in the middle of the desert and suddenly hear someone wolf whistling at you then there are probably grackles in the vicinity.
One of the most pleasant ways to see birds near the Dead Sea is to go hiking in the Ein Gedi nature reserve. Ein Gedi is an oasis whose natural springs nourish an interesting mix of desert, semi-tropical and waterside vegetation, attracting not only desert birds but also kingfishers and various garden birds such as sunbirds, bulbuls and bush robins. Over the years the little green bee-eater has extended its range north from the Arava to include Ein Gedi as well and I've seen them in the reserve on several occasions usually perched on a branch over a stream hunting for flying insects. I love watching them, gracefully chasing after a bee or wasp with their bright colours flashing in the sun, a wonderful display of beauty and agility. The oasis is also a convenient rest stop for migratory birds.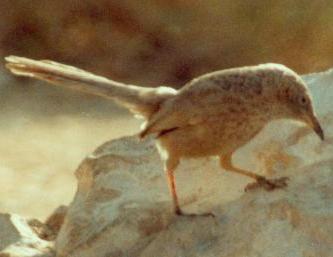 Arabian babbler
There are several hiking trails to chose from at the reserve, some short and simple, some which require many hours and are for experienced hikers only. All offer interesting birding, though the easy Nahal David trail can sometimes be very crowded in peak season. I find that it's best early, just after the park has opened.
We found a very scenic lookout at the Metzukei Draggot cliffs over Nahal Darga, north of Ein Gedi which not only offered good views of the surrounding desert and nearby Dead Sea, but which also put us at the same height as the ravens and raptors such as barbary falcons soaring above the wadi. Talk about a bird's eye view. It also allowed us to see many nest sites in the high cliffs and we watched several crag martin parents dart in and out.
Birding sites near the southern Dead Sea area include the ruins of Masada and the saline oases south of the sea, in the Neot Hakikararea. Sometimes the luxurious resort hotels at Ein Bokek are also good birding spots, providing lush gardens, plenty of trees and in some of them fountains and pools, which attract many birds, especially during migrations.
---
Birding intro | Biblical birds | Birdwatching links
Golan and Galilee | Dead Sea and Ein Gedi | Eilat and Negev
Jerusalem area | Mediterranean coast | Modiin area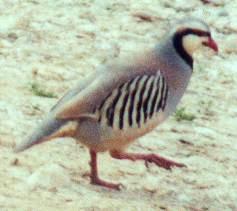 Chukar partridge
---
Copyright 2001 by Leiah Elbaum. Text and illustrations on this page are by Leiah Elbaum. Last updated 14 February 2001.
Return to home