Birding in and around Jerusalem
Moving to central Israel, the Jerusalem region, though more famous for its religious and historical sites, can be interesting for birdwatchers too, with temperate wooded and rocky slopes to the west and the arid Judean Desert to the east. When we lived in one of the neighbourhoods bordering the forest and walks in the woods were a regular past time. Typical forest birds, many also common in town parks and gardens, include blue jays, Syrian woodpeckers, several types of warblers and doves, song thrushes, assorted shrikes, blackbirds, robins, hoopoes, sunbirds, bulbuls, kestrels, hobbies, chukars and Scops and barn owls. On one occasion we saw an eagle owl.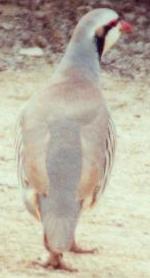 Chukar
Lovely areas for hiking and birdwatching include the forested mountainous area just south and west of Jerusalem around villages such as Nes Harim, Ora, Beit Zayit and Sataf, and forested areas further south near the town of Beit Shemesh, the Park Britania forest, Eshtaol forest, Harel and the Beit Guvrin archaeological park.
Jerusalem is home to prime nesting sites for the endangered lesser kestrel. The Musrara neighbourhood in central Jerusalem is home to several nests and the Israeli Society for the Protection of Nature occasionally arranges walking tours of the area. In general Jerusalem's parks, even right in the centre of the city, are home to a variety of birds, and while many are common local species you never know what you might find.
The landscaped gardens around the Knesset, Israel's parliament, are good for birding too. The Jerusalem Bird Observatory (JBO) has birding walks every Monday afternoon with an English speaking guide. The JBO also holds ringings which are open to the public. I went along to one this winter during which a variety of passerines were caught. During the day's birding at the centre I saw over 30 (mostly common) species including hawfinches, chaffinches, chiffchaffs, robins, greenfinches, blackbirds, yellow vented bulbuls, Palestine sunbirds, Syrian woodpeckers, blackcaps, jays, bramblings, serins, pied wagtails, Smyrna kingfisher, great tits, chukar partridges, Spanish sparrows, European starlings and serins, as well as a hobby, goshawk and the centre's resident brown necked raven. And this was a poor day's birding. The best times to visit are during the spring, even from late February, when many interesting species pass through the centre.
Strange as it may seem Jerusalem's Biblical Zoo is also a good place for birding. The zoo's grounds are beautifully landscaped providing a variety of habitats, including a lake and streams, for birds. There is even a "bird walk" with fencing designed to serve as a hide. As a result there are many wild birds who live in the area, while the variety of water sources attract many migrants. On a recent visit there were various waders enjoying themselves by a pond in the oryx antelope enclosure while I noticed three different warblers, jays, blackbirds and a woodchat shrike in the vicinity of the birdwalk area. The zoo also has a variety of captive birds.
---
Birding intro | Biblical birds | Birdwatching links
Golan and Galilee | Dead Sea and Ein Gedi | Eilat and Negev
Jerusalem area | Mediterranean coast | Modiin area
---
Copyright 2001 by Leiah Elbaum. Text and illustrations on this page are by Leiah Elbaum. Last updated 14 February 2001.
Return to home