Birdwatching Locations in Northern Israel
Northern Israel is blessed with an abundance of water sources, craggy volcanic mountains, lush valleys and temperate to semi-tropical climates, all of which attract species not found in other parts of Israel. The area is also sparsely populated, offering sanctuary to many species. It is an excellent area for raptors, including Griffon vulture, imperial eagle, Bonelli's eagle, short-toed eagle and Egyptian vulture and for a host of wetland birds including pygmy cormorant, white pelican, assorted herons, storks and kingfishers.
The Golan Heights and Mount Hermon
The Gamla nature reserve in the southern Golan is well known for its population of Griffon vultures, and is an excellent place for seeing these birds up close. The area is also good for other raptors including imperial eagle, Bonelli's eagle, long-legged buzzard, short-toed eagle and Egyptian vulture.

The new concrete hide atop one of the cliffs is now complete and it certainly makes for more comfortable raptor spotting in either scorching summer

sun or winter downpours. The large hide has been set up directly across from a cliff which is a prime vulture nesting site and there are large screens relaying scenes from a nest camera. From what I could see there were also nesting sites just below the hide, allowing interesting views of the vultures from above.

In mid-November 2000 a lammergeier was seen at Gamla, the first sighting of this vulture in Israel since the last known Israeli nesting pair were seen in the Judean Desert in 1981. The lammergeier at Gamla was a young bird, believed to have arrived from the Caucasus or northern Iran.

Further north is the Banias nature reserve. Its streams, woods, ancient ruins and huge cave shelter Smyrna and pied kingfishers, rock nuthatches, rock thrushes, grey wagtails and a variety of waterside and forest birds.

It is also home to ring-necked parakeets, a pair of whom flew out at us while we were walking in the forest. These parrots are not native to the region but have become naturalised here since the early 1960s and have since settled mostly in coastal regions, but are in the process of expanding their range throughout northern and central Israel. Those in Israel seem to originate from Iraq where the Indian sub-species is well established.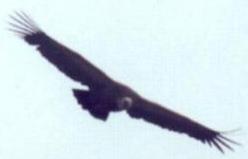 Griffon vulture at Gamla
Other birding sites in the north-east include Mount Hermon, Israel's highest peak and only ski site. This is the loveliest place in Israel to visit during the summer when the melted snow is replaced with lovely wild flowers and an interesting selection of birds such as the Syrian serin, rock thrush, sombre tit, crimson winged finch, pale rock sparrows, little swift, rock nuthatch, pine buntings, Isabelline wheatear, horned lark, trumpeter finch and Upcher's warbler, as well as a variety of raptors.
Adjacent areas, on the road between Mount Hermon and Banias, can also offer rewarding birding. Nimrod's Fortress, a spectaular Mamluk castle, offers commanding views fo the Hula Valley and mountain sides below.
The Hula Valley and the Sea of Galilee
For waterfowl in northern Israel, visit the Sea of Galilee (Lake Tiberias) and the Hula Valley, as well as the various fishponds and other smaller bodies of water in the region. The Hlua Nature Reserve itself, a small remnant of what was once a large wetland area, is one of the most outstanding birding sites in Israel, indeed in the entire region.
Among the many birds these sites attract are cormorants, marbled teal, shovelers, moorhens, cranes, glossy ibis, all three Israeli kingfisher species, European bee-eater, marsh harriers, black storks, white pelicans, great and clamorous reed warbler, yellow wagtail, white tailed eagle, little egret, grey, purple, night and squacco heron and pygmy cormorant.
Organized birdwatching tours are available within the Hula Valley Wetlands Nature Reserve and the region. It's worth checking with the Jewish National Fund (JNF) and the Society for the Protection of Nature in Israel(SPNI).
It's hard to keep your eye on the wheel while driving through the area because even a casual glance around you can yield interesting sightings. We've spotted many of these birds while driving or hiking in the area, including many raptors hunting over the valley and fields full of storks and cranes in migration season.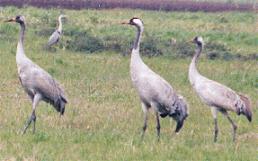 Cranes in winter in the Hula Valley
Autumn, spring and winter are the best seasons, both because of all the migrating and overwintering birds, and because the region is very hot and humid during summer. During the winter and peak migration seasons the reserve is crammed full of birds, with the most spectacular visitors including huge flocks of white pelicans, assorted herons and cranes. That said, even a summer visit can be interesting - if you can stand the weather.
The Jordan and Bet Shean Valleys
Just south of the Sea of Galilee is the Jordan River Valley, warm in the winter, very hot and humid in summer. The valley, and in particular the Bet Shean region, is a good place to see an interesting mixture of native and migrating birds, including many rarities, attracted by the fish ponds and fields of the surrounding agricultural villages and kibbutzim (communal villages). For some semi-tropical or desert birds this is the northernmost extent of their range.
Among the throngs of birds which may be seen in the Bet Shean Valley and nothern Jordan Valley are black francolins, pygmy cormorant, black storks, Dead Sea sparrows, reed buntings, white pelicans, barn, little and Scops owls, ospreys, imperialand spotted eagle, flamingo, rufous bush robin, clamorous reed warbler, all three Israeli kingfishers, Squacco heron, grey heron, spoonbill, glossy ibis, Armenian gull, collared and black-winged pratincole, as well as an interesting assortment of plovers, sandpipers, ducks, marsh terns, harriers, snipe, bee-eaters, egrets and the list goes on and on.
One of the kibbutzim in the area, Kfar Ruppin has a bird watching centre, including a birding information centre, guest house and ringing station.. If you have time for nothing else in northern Israel, this should be at the top of your list. I can't recommend it highly enough, I've had some of my most enjoyable birding experiences there. British TV personality and birder Bill Oddie ranked Kfar Ruppin as one of the best birding sites in Israel.
Kfar Ruppin offers a wonderful selection of wetland environments, fish ponds, fields and lush gardens and lawns. You could certainly organise a birding holiday around the kibbutz, as exploring this fertile birding area could keep you busy for days, and should you tire of Kfar Ruppin there is the whole Bet Shean Valley to explore, and of course you are in easy driving distance of the north's other great birding attractions like the Hula Valley and Golan Heights.
Spur-winged plovers are common all over Israel, but if you have ever wanted to see spur-winged plover central, this is it. They are everywhere, by the roads, by the dozen in the fields, by the fish ponds... Even if you get thoroughly sick of them, scan the flocks carefully, you never know what interesting discoveries might be hiding amongst them.
I've seen a variety of birds from the road or on brief stop-overs in Bet Shean, the main town in the region. If you're not the one driving keep an eye on the fields and fish ponds you'll pass driving through the area, you never know what might decide to "buzz" your car or land in a roadside meadow. In particular this is an area where we've been practically "mobbed" by swallows wheeling low over the road and fields.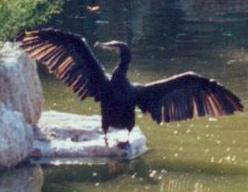 Cormorant
---
Birding intro | Biblical birds | Birdwatching links
Golan and Galilee | Dead Sea and Ein Gedi | Eilat and Negev
Jerusalem area | Mediterranean coast | Modiin area
---
Copyright 2004 by Leiah Elbaum. Text and illustrations on this page are by Leiah Elbaum. Last updated 17 August 2004.
Return to home