Kol HaTor - Voice of the Turtledove
Birding in Israel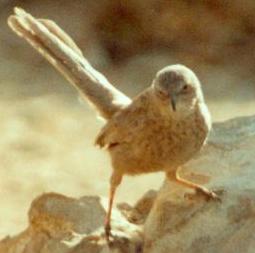 Arabian Babbler
This website is intended to offer a basic introduction to birds and birding in Israel, including recommendations for birding locations around the country and more detailed observations from the Modi'in area in central Israel where we live, as well as information on birds in the bible.
The extensive links section focuses mostly on other Israeli birding sites, including the homepages of Israeli ornithological research centres, trip reports and photo galleries. You'll also find many links to other Middle Eastern and general birding sites.
With over 500 resident and migrant species, Israel is a great place to go birding, conveniently located along the major migration routes between Africa and Eurasia, with millions of birds making the trip twice a year. All this variety comes in a small package: the drive from north to south takes less than a day and the trip from west to east under two hours.
The most rewarding areas for birdwatching are up north around the Hula Valley, Mount Hermon and Golan Heights, the southern desert areas around Eilat and the shores of the Dead Sea. However there is interesting bird watching to be had in many other parts of Israel too, especially during the spring and autumn migrations when the country is flooded with birds from around the world. During the big migrations anywhere in Israel can be a good birding spot, as the fields and countryside near my home demonstrate.
If you have any suggestions on how this site can be improved, corrections or other comments please e-mail me: Leiah Elbaum
---
Table of Contents
---
Copyright 2004 by Leiah Elbaum. Text and illustrations on this page are by Leiah Elbaum. Last updated 17 August 2004.
Return to home