Birds in the Modi'in area
Living in an urban area surrounded by countryside we see an interesting mix of local birds, whether on our balcony, in the surrounding gardens and parks, in neighbouring villages or on our walks in nearby fields and nature areas. This page is based on what we've learnt from our local observations. On the next page you'll find an a basic overview of some of our most common local birds and where to find them.
The Modi'in area is still an interesting area for birds even if it isn't quite Eilat or the Hula Valley. During the spring and summer migrations in particular we do get quite a large number of raptors passing through, as well as large flocks of storks, pelicans and cranes who come to this area to catch the thermals that will carry them on their way.
Since I moved to Modi'in in the December 1998 the area has gone through some drastic changes, and the bird population has likewise changed somewhat. The town of Modi'in has developed rapidly, growing from around 15,000 residents when we moved in, to closer to 60,000 at the time of writing. The fast growth of the city has meant that large swathes of countryside have been covered in concrete, yet at the same time many parks and gardens have been planted, balconies overflow with flowers, trees have matured and the town itself now contains many bird-friendly zones. A landscaped recreation area including wooded walking trails and a large pond is planned too.
We recently moved to a new flat in Modi'in, close to parks and right above a lush garden whose mature fruit trees are just an arm's length away from our windows, while our balcony overlooks our neighbour's flower covered trellis. When I saw this little green oasis and heard its wealth of birdsong I knew that this was the apartment for me. Lately I haven't had much time for going out "into the field", but I had some pretty satisfactory birding from the comfort of my own home.
Many mornings I wake up around dawn to the rambunctious voice of a Smyrna kingfisher which frequents a tree close to my bedroom window. No, there is no water in the area, but don't be fooled by the name, it's just as happy wolfing down some hapless lizard.
By morning the chattering, burbling, bulbuls are busy attacking the fruit trees, there is usually something in season - citrus, mulberries, almonds and a couple of trees with berry like fruits I don't recognise. Sunbirds are zipping around the bright flowers, clicking their mechanical sounding call or bursting into sweet song. Small flocks of goldfinches or greenfinches are also regulars, as well as graceful warblers, Eurasian jays, house sparrows, great tits and palm doves. A pair of kestrels patrols the skies, having taken up residence at the top of a nearby high rise.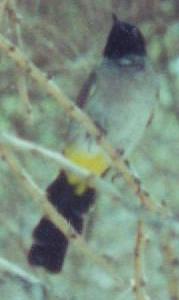 Bulbul
Dusk is heralded by the sweet song of a blackbird which likes the tree just beyond the balcony. Often we go to sleep with the poignant mewing of the neighbourhood little owl.
Of course these are just the basic regulars, with the seasons you never know what you might find visiting the garden, park or balcony. For much of this spring a flock of blackcaps took full advantage of the ripe mulberries outside my study. It was noisy, but fun to be able to watch them up close, only a few centimetres from the window. Every so often assorted other warblers on joined them, fan-tailed, Sardinian, whitethroats and more. During winter I often noticed a chiffchaff in the bare tree or nearby fence, as well as the occasional stonechat, redstart or black redstart. A week ago I noticed masked and woodchat shrikes and a black-eared wheatear in the park across the road.
List of Modi'in area birds
Here is a more complete list of birds we've seen in the Modi'in area, with contributions from Robert Broch, a visiting birder from Leeds:
Year-round:

Barn Owl Tyto alba
Blackbird Turdus merula
Eurasian Jay Garrulus glandarius
Blue Rock Thrush Monticola solitarius
Cattle Egret Bubulcus ibis
Chukar Alectoris chukar
Collared Dove Streptopelia decaocto
Corn Bunting Miliaria calandra
Crested Lark Galerida cristata
Fan-tailed warbler (Zitting Cisticola) Cisticola juncidis
Goldfinch Carduelis carduelis
Graceful Warbler Prinia gracillis
Great Tit Parus major
Greenfinch Carduelis chloris
Hooded Crow Corvus corone
Hoopoe Upupa epops
House Sparrow Passer domesticus
Common Kestrel Falco tinnunculus
Lesser Grey Shrike Lanius minor
Linnet Carduelis cannabina
Little Egret Egretta garzetta
Little Owl Athene noctua
Palestine Sunbird Nectarinia osea
Palm Dove (Laughing Dove) Streptopelia senegalensis
Rock dove Columba livia
Sardinian Warbler Sylvia melanocephala
Stone Curlew Burhinus oedicinemus
Syrian Woodpecker Dendrocopus syriacus
Spur Winged Plover Hoplopterus spinosus
White Throated (Smyrna) Kingfisher Halcyon Smyrnensis
Yellow Vented Bulbul Pycnonotus xanthopygos

Spring/Autumn:

Blackcap Sylvia atricapilla
Common Cuckoo Cuculus canorus
Garden Warbler Sylvia borin
Honey Buzzard Pernis apivorus
Lesser Spotted EagleAquila pomarina
Lesser Whitethroat Sylvia curruca
Pallid HarrierCircus macrourus
Quail Coturnix coturnix
Steppe Buzzard Buteo vulpinus
White Stork Ciconia ciconia
Whitethroat Sylvia communis

Autumn/Winter/Spring:

Black Kite Milvus migrans
Bluethroat Luscinia svecica
Buzzard Buteo buteo
Hen HarrierCircus cyaneus
Long Legged Buzzard Buteo rufinus

Winter:

Black redstart Phoenicurus ochruros
Chaffinch Fringilla coelebs
Chiffchaff Phyllosocpus collybita
Coot Fulica atra
Ferruginous Duck Aythya nyroca
Finsch's Wheatear Oenanthe finschii
Hen Harrier Circus cyaneus
Grey Wagtail Motacilla cinerea
Imperial Eagle Aquila heliaca
Mallard Anas platyrhynchos
Marsh Harrier Circus aeruginosus
Meadow Pipit Anthus pratensis
Pied (White) Wagtail Motacilla alba
Robin Erithacus rubecula
Skylark Alauda arvensis
Shoveler Anas clypeata
Spanish sparrow passer hispanicus
Stonechat Saxicola torquata
Water Pipit Anthus spinoletta

Spring:

Nightingale? Nightingale Thrush?
Wheatear Oenanthe oenanthe
White Pelican Pelecanus onocrotalus

Spring/Summer:

Alpine Swift Apus melba
Barn Swallow Hirundo rustica
Black Eared Wheatear Oenanthe hispanica
European bee-eater Merops apiaster
Glossy Ibis Plegadis falcinellus
Hobby Falco subbuteo
House Martin Delichon urbica
Masked Shrike Lanius nubicus
Olivaceous Warbler Hippolais pallida
Orphean Warbler Sylvia hortensis
Ortolan Bunting Emberiza hortulana
Red-rumped Swallow Hirundo daurica
Short-toed Eagle Circaetus gallicus
Swift Apus apus
Tree Pipit Anthus trivialis
Turtle dove Streptopelia turtur
Whitethroat Sylvia communis
Woodchat Shrike Lanius senator
---
Birding intro | Biblical birds | Birdwatching links
Golan and Galilee | Dead Sea and Ein Gedi | Eilat and Negev
Jerusalem area | Mediterranean coast | Modiin area
---
Copyright 2004 by Leiah Elbaum. Text and illustrations on this page are by Leiah Elbaum. Last updated 17 August 2004.
Return to home